Android TV Box
Android TV Box
Hi there folks. Welcome back to my humble blog. I've been ran off my feet of late and have been struggling to find any time for myself. But what little time I have found I have spent enjoying the benefits of my online Android TV Box. I just cannot believe the value of this little black box in terms of entertainment. It is truly revolutionary what it can offer in terms of channels and entertainment. It almost limitless! And their popularity has boomed of late, not least because of their extremely affordable price tag. So in this blog post, I am going to delve a little bit deeper into the world of Google TV boxes and take a look at all the different variables.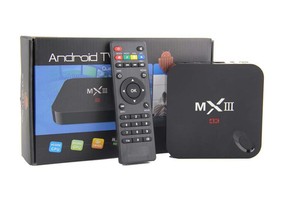 Google TV
Android is a Google invention so Android TV Boxes are also generically known as Google TV boxes. They are, as name suggests, a small box shaped device that you plug into you TV and it accesses the service via your wifi connection. Via this service you can access apps, games and a web browser to surf the internet amongst other things. But most importantly, it can access all your favourite TV shows and channels from around the globe, movies, box-sets and anything else that currently graces the screens of our TVs worldwide. The boxes are extremely affordable and cost as little as $60. It is basically a very clever way of bringing the tablet and laptop experience to your television with the ability to stream your favourite TV shows and movies thrown in! All you need is an HDMI cable, a wifi connection and, of course, a TV.
The beauty of the Android box experience is that you can find and watch even the most obscure of what television has to offer. If your preferred new channel is Russia Today, you've got it! If you're a fan of Bollywood movies, they are at your fingertips! You are not restricted to what is scheduled on the normal channel networks so you can watch what you want when you want, rendering cable and satellite TV obsolete in many ways. It is a huge jump forward in terms of TV technology and user experience. Understandably, the traditional TV networks are somewhat nervous and rightly so. They really need to have a rethink of how they intend to deliver their services in the future to keep up with and compete the Android TV Box experience.
Android TV
Many companies are producing and selling the Android TV Boxes of which I speak. But it is also possible to purchase TVs with the Android software pre-installed, negating the need to purchase a box. Obviously, you may not be in the market at this time for a brand new TV so the Android Box would be the cheaper and more practical option. There is also ne need to pay for a subscription with the box which is sometimes required through built in service. Once you have your box or TV setup you will have access to everything that the internet has to offer, whether it be social media, your favourite blog or consumer website! Imagine that! You can shop from the comfort of your living room sofa with your TV remote and a nice cup of coffee!
Set Up
The TV box is extremely user friendly and can be set up in no time at all. You just need to plug into a power source, connect the box to the TV via an HDMI cable and it is ready to go! The latest Android TV Box operating system is known as Ice Cream Sandwich (where do they come up with these names?) and it operates in much the same way as the operating system on your Android smartphone. They have a high processing power and memory and hard disk storage that can be extended through the use of external SD cards.
Summary
Given the low cost and flexibility of the Android TV Box, there is absolutely no reason for you not to jump onboard and join one of the biggest revolutions in entertainment technology in recent years. You are seriously missing out if you don't get yourself and your family one of these fabulous devices! If you want to do a little more research before you part with your hard earned cash, you could do worse than to take a look at the following website to give yourself a clearer overview: https://www.android.com/tv/
Anyway folks, that is all from me for now. Be sure to write me at the usual address to share your personal Android TV experiences! I can't way to read them! Bye for now!